Services
Inland Container Depot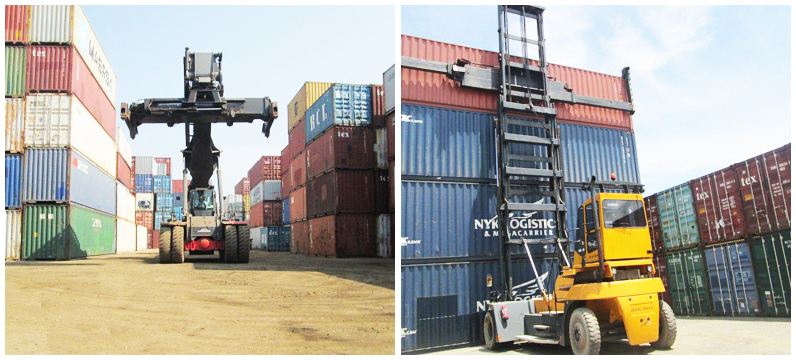 We provide efficient container depot management services with the use of container handling equipment and well planned yard layouts. Our container depot activities depend upon the type of cargo, mode of transportation and the type of cargo. We help the supply chain integration for our customers by providing value added services such as;
Containers For Rent or Sale
Through this service we offer the customers the containers for storage purposes either for rent basis or for sale. The customers can select the size of the container according to the nature of their goods. In addition, the customer is given the freedom to store their goods in our yard itself or get the container to their premises and return back after the completion of the task, if its on rent basis.
Reefer Container Facility
We have developed the service of providing reefer containers for sale or on rent basis of 20' and 40' sized which are water tight and rust free for the secure storage of your products. These reefer containers are provided as per the clients requirements with the assistance of skilled professionals. We take the responsibility of storing the your goods under the suitable temperature and standard until delivered at the best quality.
Reefer Container Plugging
Reefer containers require a certain degree of infrastructural facilities at the depot, hence we have arranged the main requirement, reefer container plugging. We have allocated the needed space for plugging facilities where it allows the customers to plug their container for anytime required.
Container Conversions
We offer a wide range of prior designed standard solutions through shipping containers such as offices, homes, workshops, showrooms and etc. These places are designed and constructed to get work start instantly which is fully equipped with furniture and fittings which best suites your requirements.
Container Repairing
our depots have the ability of storing and servicing the general purpose containers, reefer containers and other special equipment. All the containers delivered to our depot are checked for possible damages. All the inspections are carried out by qualified inspectors and repairs are up to standard. We basically provide,
All maintenance, cleaning and repair work.
Consumes a short repair time.
Reefer units inspection and repairing.
Environmental friendly container cleaning and repairing.
\