Latest News
Latest News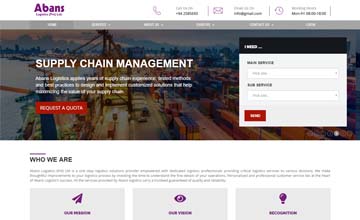 Launching of the New Website
We are happy to publicize that our new and restored website is live. The updated site includes all the relevant information regarding all the fields we touch and our operations. We have also improved the structures of content, so our customers are able to get more from a quick read. There's a multiple of smaller yet influential changes in order to enhance our customer satisfaction.
New Warehouse
We as a logistic service provider, produce various facilities related to supply chain. We are currently operating two warehouses at Seeduwa and Sapugaskanda and are looking forward to expanding the number of warehouses, enhancing storage facilities of our customers' cargo. These warehouses would be equipped with latest technology and supported by our warehouse experts to provide seamless service.
Yard Reefer Plugging Facilities
Reefer containers require a strict temperature controlled environment, hence providing the necessary infrastructural facilities is one of our prime duties. We are in the process of increasing reefer plugging and allocating the space where it is ease for customers to plug more of their containers for any required time.